High Yield vs. Equities
Jeff Benjamin of InvestmentNews recently wrote a story on high yield's upside potential while QE continues. In an asset class that is not easy to index, we're pleased to share insight from the portfolio management team of the AdvisorShares Peritus High Yield ETF (HYLD). Tim Gramatovich, Ron Heller, and Heather Rupp provide a closer look at the performance of high yield vs. equities in their analysis.
As we see a resolution in Washington, albeit temporary, and sentiment shifting that Fed "tapering" may not necessarily be on the near-term horizon, the equity markets have once again regained their trod upward.  The pervasive thought still seems to be for a 40/60 allocation (fixed income/equities), but we continue to question the large equity commitments.  While there will always be selective opportunities within this market, we see several headwinds for the broader equity markets.
From a valuation perspective, we are seeing the PE Ratio on S&P 500 index trade at levels above historical averages, at 19.2x versus the average of 14.5x.1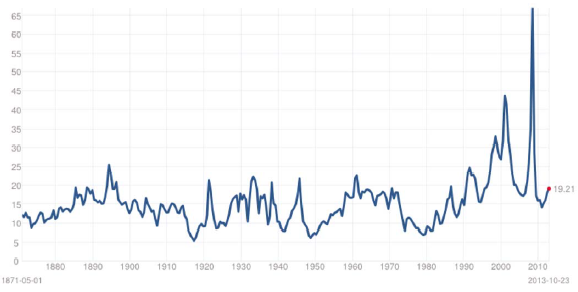 Is this justified and what will cause those multiples/valuations to continue to expand?  You either need earnings growth or demand growth.  Looking at earnings, we are seeing a lackluster earnings season so far.  We haven't seen much growth and there have had some notable misses from the likes of IBM, YUM! Brands, and Caterpillar.  And the outlook for Q4 doesn't seem to be very robust either, with some already blaming the government shutdown.
Turning to demand, we have our concerns that investor appetite for equities will decline due to demographics.  We all know that the baby boomer generation is aging and hitting retirement.  This will cause a shift in focus from capital appreciation and growth to capital preservation and income generation, as well as payouts from defined benefit plans.  We expect that this demographic trend will cause a lower demand for equities, and subsequently a cap on multiple expansion in the years to come.
Yet many people still seem to be under the impression that equities are the only place to generate an attractive long-term return; the actual data shows otherwise.  Looking over the past 5, 10, and 25 years, we have seen the high yield market perform better or relatively in line with equities, but did so with nearly half the risk (as measured by the standard deviation of returns).

Investing is about putting your money to work to generate the best return with the least amount of risk.  With that in mind, how can equity investors ignore the high yield market?
Income is not only an important component for retirees, but for all investors.  In high yield bonds, a significant portion of the return comes from the consistent and tangible income provided to holders via the coupon payments.  And while there is some bond price volatility (which can create the opportunity to buy securities at a discount), at the end of the day, there is a maturity date for bonds, meaning you have a prospective timeline and an amount (par) at which you will be paid your money back.  Equities on the other hand, offer very little or none at all in the way of income via dividends and you are relying on the market psychology to be there to continue to drive your stock price higher, or at a minimum hold it steady.
We continue to feel that income-generating high yield bonds, as a significant portion of the corporate debt market and with their historical risk adjusted outperformance versus equities, should be considered as a core part of an investor's portfolio.
1 – S&P 500 PE Ratio, 
http://www.multpl.com/
. 2-Credit Suisse High Yield Index data from Credit Suisse.  S&P 500 numbers based on total returns.  Calculations based on monthly returns and standard deviation is calculated by annualizing monthly returns.